In this Blog, you can review the Salesforce Developer Salary Guide. Before you get into that, let's know about the Salesforce. Job opportunities in Salesforce have grown significantly in recent years. As a result of Salesforce's acceptance by major IT companies, the company is increasing. It's no secret that salaries at Salesforce surpass those at other companies in the sector. Here, you'll find all the information you need about salesforce job salaries for various positions.
What Exactly is Salesforce?
As a business owner, you need to be able to build and maintain relationships with your customers. Salesforce is a company that carries out this function. Companies can use it to find and connect with new customers, then track and manage their interactions until they become paying customers.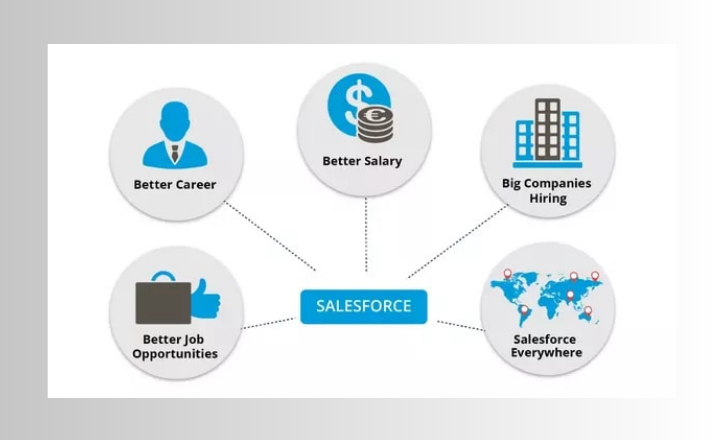 Salesforce is used by many businesses irrespective of their size. However, the scalability and functionality of this cloud-based CRM can benefit small and medium-sized enterprises. When used to its full potential, this technology has the potential to level the playing field for these businesses.
Benefits of Salesforce
The following are the main benefits of Salesforce:
Cost-Effective
The Salesforce CRM software can be accessed via the internet at a reasonable price. In addition, you can tailor it to fit your business's needs.
Quick and Simple to Deploy
A business model is all that is required to begin developing and deploying an application on Salesforce.
Fast
Salesforce allows you to deploy a business model in weeks, whereas a traditional system takes a year.
It's Simple to Integrate
The process of integrating Salesforce with other applications is straightforward. You can use it with Outlook, Gmail, WordPress, Oracle EBS, and other popular email systems.
Efficient
The time and effort required to implement the business model that is using Salesforce can be reduced significantly. This saves you time in development and allows you to invest it in the growth of your business.
Accessible
Salesforce's services can be accessed from anywhere worldwide thanks to the Internet.
In What Countries is the Demand for Salesforce Developers High?
Everywhere, there's a high demand for Salesforce developers. The United States, India, Australia, Canada, the United Kingdom, and Singapore are some of the best places to work as a Salesforce developer.
Salesforce was the only company in the United States to make it into the top 25 best jobs in the country for 2019. Salesforce developer jobs ranked 10th on the list of career options. For the future, Salesforce is a company that is creating a lot of career opportunities.
Why is the demand so high?
Salesforce developers are in high demand worldwide, but none more so than in India. At least 1,000 new Salesforce employees are expected to be hired in Hyderabad, India's capital city, by the end of 2020. The company already has a significant presence in the country. It clearly shows that India's Salesforce developer market is about to explode.
The requirement for developing the salesforce seems like a global trend. Salesforce's Report on Talent Ecosystem for 2018 found that the need for Salesforce professionals is ten times greater than the supply of qualified workers available.
As more businesses migrate to the cloud, there will be an increase in the need for qualified Salesforce professionals in Canada. According to Salesforce's website, 28,000 jobs directly related to Salesforce applications are expected to be available by 2022.
Top Paying Countries for Salesforce Developers
A Salary Survey found that Salesforce developers can expect to make the following salaries based on location and experience.
US Salesforce Developer Salary Average
     

Senior Level: 159,300

     

Mid-Level: $141,000

     

Junior Level: $111,000

     

Freelance Developers in the United States can expect to earn between $79k and $138k per year.
The Average Annual Salary in Canada for Salesforce Developers
     

Senior Level: $133,100

     

Mid-Level: $119,790

     

Junior Level: $98,750

     

Freelance Developers can earn between $87k and $136k per year.
UK Salesforce Developer Salary Average
     

Senior Level: 80,999£

     

Mid-Level: 65,846£

     

Junior Level: 50,659£

     

Freelance Salesforce developers in the United Kingdom typically earn between $500 and $700 per hour.
Average German Salesforce Developer Salary
     

Senior Level: 80,640€

     

Mid-Level: 68,544€

     

Junior Level: 55, 440€
The Average Annual Salary in Australia for a Salesforce Developer
     

Senior Level: $155,261

     

Mid-Level: $138

     

Junior Level: $121,737

     

Freelance Salesforce developers in Australia can expect to earn between $1,000 and $1,350 per month.
The Average Salary for a Salesforce Developer in India Per Year
The average annual salesforce job salaries in India is INR 7,60,706, ranging from INR 1,36,000 to INR 19,13,000, depending on experience and tenure.
The Demand for Salesforce Developers in India
There is a high demand for Salesforce developers worldwide, including in India. The need for salesforce developer jobs in India is on the rise. According to the company, one thousand new employees have been hired by Salesforce in the last few years.
This is in addition to the already established presence of this domain name in the United States. It's a sign that Salesforce developers in India will soon be in high demand. The salesforce market is expected to grow to 4.2 million jobs by 2024.
Salesforce's Financial Growth (2017–2022)
Salesforce has shown tremendous growth over the past few years and will continue to do so. It increased the revenue of various industries by 29% in 2019. CRM activities that are powered by artificial intelligence can enhance the revenue of global business by upto $1.1 trillion, plus it can generate around 8 lakhs net new jobs by 2021.
According to predictions in a recent study, according to Salesforce.com, Salesforce customers are expected to generate $293 billion in revenue and more than 155,000 new jobs by 2021, according to a forecast from the company.
This year's forecast shows that the global market for CRM is expected to grow from $7.9 billion to $46.3 billion by the end of 2021. Based on these revenue figures, Salesforce's salary and potential are predicted to be extraordinarily high shortly. As a result, a career in Salesforce is well worth pursuing.
Final Thought
You can get an idea of the scope and demand for a salesforce career by looking at the Salesforce salary trends. As one of the most sought-after professions with promising long-term prospects, Salesforce has long been a popular choice. If you've got sales skills, you're eligible for various positions and a host of career advantages, including a higher salesforce careers salary.