Gone are the days when CRM platforms and features like process automation were limited to high-end enterprises. Over time, the relevance of modern cloud-based platforms has increased across all scales of operation. In 2022, Salesforce is being used by companies operating at all scales and in all major industries, including education, real estate, finance, healthcare, and more. This has led to an increase in the demand for Salesforce Career.
As companies are implementing modern cloud-based CRM solutions, they need skilled experts to help them out with different facets of managing their CRM activities. This is what makes Salesforce jobs some of the best career options in 2022 for beginners.
Many young graduates today are flocking to Salesforce because of the plethora of opportunities and handsome pay scale. However, it is important to choose the right career path and be precise in building a career in Salesforce.
First of all, it is important to aim for a job position that best suits your skills, interests, and capabilities.
Salesforce Designations To Keep An Eye Our For In 2022
Here are some of the most in-demand Salesforce designations you can choose from according to your expertise:
Salesforce Administrator
A Salesforce administrator holds a key position in an organization. They are responsible for managing security access, handling standard and custom Salesforce objects, assigning roles, creating profiles, and much more.
Salesforce administrators also overlook the firm's interaction with clients, partners, customers, and all other stakeholders important to the organization.
Salesforce Developer
A Salesforce developer is responsible for understanding the requirements of the clients and developing the CRM platform based on the same. They develop the code for making the software work and ensure that the desired functionality is obtained.
Salesforce developers also help their clients in integrating Salesforce with third-party applications and troubleshoot technical issues.
Salesforce Technical Architect
A Salesforce Technical Architect is primarily responsible for ensuring the effective functioning of the Salesforce ecosystem. They work with SSO technologies and object modeling to design personalized solutions for their clients.
A Salesforce Technical Architect is also responsible for dealing with license models, data security, APIs, and integration patterns.
Salesforce App Builder
As the name suggests, a Salesforce app builder is responsible for developing and deploying innovative Salesforce applications. They use Lightning techniques for fulfilling their clients' requirements by developing business-specific apps that are unique for the concerned client.
Salesforce Business Analyst
A Salesforce business analyst assesses the functioning of the CRM platform and provides valuable business insights to their clients. Depending on the situation, they also provide personalized recommendations to their clients regarding Salesforce implementation.
Salesforce Consultant
A Salesforce consultant is an expert who is well-versed with all different aspects of Salesforce (technical and otherwise). They provide personalized assistance to their clients throughout the implementation process, making sure all their objectives are fulfilled.
Depending on your area of expertise, you can choose to provide consultancy for specific Salesforce products, such as Salesforce Sales Cloud, Salesforce Service Cloud, Salesforce Marketing Cloud, etc.
Salesforce Sales Manager
A Salesforce sales manager is responsible for managing sales deals, enhancing sales processes, monitoring sales progress, and finding solutions to overcome hurdles in the sales processes.
Now that we are thorough with all the major Salesforce designations you can target in 2022, let us understand why Salesforce certification is important.
The Importance Of Salesforce Certification
While the number of Salesforce job opportunities is large, so is the number of aspirants applying for the jobs. Irrespective of your area of expertise, if you are planning to enter the Salesforce job market, you are bound to face some serious competition.
The only way to secure your dream Salesforce job as a beginner is to stand out from the clutter you can do so with the help of Salesforce certification.
Getting Salesforce certified provides you with an official stamp of approval from the CRM giant itself. It officially recognizes your skills and the ability to provide personalized solutions to your client's problems.
Even if you are starting out as a Salesforce professional, it is advisable to opt for Salesforce certification to get an edge over your competitors. Most certification examinations require candidates to have complete theoretical and practical knowledge about the concerned domain.
These examinations are fairly tricky and require you to study well from multiple resources, especially if you are new to the world of CRM. You can get yourself trained by working in close association with experienced Salesforce experts, reading blogs, and taking the help of Salesforce's own training platform – Trailhead.
Depending on the expertise you possess and the Salesforce job you are willing to apply for, you can get certified in a range of different areas. Here are some of the most sought-after Salesforce certifications: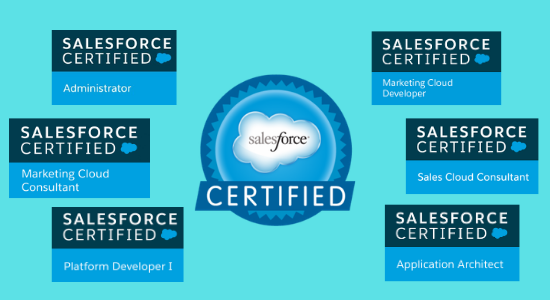 Salesforce Certified Administrator

Salesforce Certified Advanced Administrator

Salesforce Certified Platform Developer I

Salesforce Certified Platform Developer II

Salesforce Certified Technical Architect

Salesforce Certified Solution Architect

Certified Salesforce Service Cloud Consultant

Certified Salesforce Sales Cloud Consultant
Which Salesforce Job Is The Best For Beginners?
There is no objective answer to this question. The job that is most suitable for you depends on the skills you possess, the areas you are interested in, and the career you are willing to build in Salesforce.
However, most beginners prefer starting their Salesforce careers as administrators. This is because it opens doors to a lot of other opportunities.
Becoming a Salesforce administrator requires you to have a complete understanding of the technical, managerial, and business-oriented aspects of the CRM platform. As a beginner, you can always explore new opportunities after working as a developer.
The Final Word
Irrespective of the Salesforce job you are looking for, the only way to carve a successful career path is by getting yourself trained, staying in tune with the ongoing tech trends, and getting certified.
While there is enough competition in the job market among Salesforce professionals, you can rest assured that you would land a fruitful job if you possess the right skills and have the right acumen.