When it comes to choosing between two equally practical software solutions, the comparison happens based on numerous functionalities.
Salesforce and SAP are currently the leading names in the CRM industry, thanks to the exceptional customer service and marketing strategies they offer.
In this article, we will thoroughly compare each software capability and review some customer experiences to understand how Salesforce and SAP resonate with their consumers.
An Overview of Salesforce
Salesforce's resume boasts an impressive record of CRM market share owing to its CRM-specialized products. There is no functionality with numerous customizable features packed into its interface.
Salesforce began its venture into the cloud with a Software-as-a-Service approach. Today, there is plenty of competition in the cloud-based applications field, with numerous CRM software's vying for the top spot.
Its recent move to expand its networking capabilities with the tie-up with MuleSoft indicates its dedication to better serving customers with every innovation.
Salesforce is a comprehensive CRM solution provider with often challenging-to-navigate features. The various characteristics make Salesforce a compelling market rival for superior CRM solutions.
Marketing automation
Lead management
Contract and Compensation management
Social engagement
Customer data/contact management
Tracking customer/vendor interactions
Territory management
Email marketing and management
Pipeline visualization
Workflow and Opportunity management
Safe integration with client's email
Quote/Order management
Forecasting
Reporting and Task management
Partner relationship management
Customizable reporting
The UI that Salesforce incorporates is less demanding on the users.
The presentation is user-friendly, even though the functionality can get exhaustive.
Further, the full suite of integrated and CRM solutions on a single platform makes Salesforce a go-to CRM software solution.
An Overview of SAP
SAP entered the cloud field later than Salesforce but has more than made up the market gap with its dedicated CRM solutions. Its singular focus is on evolving and simplifying the customer experience through integrated and specialized services.
SAP primarily deals with products in ERP, BI, computing, logistics management, inventory management, data processing, and more. Its CRM tools can address all business needs of a large organization with effortless efficiency.
Furthering the customer experience, SAP has integrated with the S/4HANA ERP software to make CRM solutions more affordable without compromising quality.
Here are the features SAP has to offer to its broad consumer base.
Partner management
Time tracking
Sales report
Contact management
Salesforce automation
Email marketing
Pipeline management
Document management
Contact history
Lead management
At a glance, you can tell that SAP does not have as many exhaustive and customized features as Salesforce offers.
However, the singular functionality of each solution/product on the table is impressive in its class.
A more recent integration that SAP has undertaken is the inclusion of robotics process automation to boost its customer network.
Comparing the Salesforce and SAP CRM Core Functionalities
Salesforce and SAP CRM are two of the most popular business software globally.
However, there are many differences between them. Salesforce is cloud-based software mainly used for marketing and customer relationship management. In contrast, SAP CRM is one of the most widely-used enterprise resource planning software that handles all aspects of a company, from finance to human resources.
Let us take a look at differences in each aspect.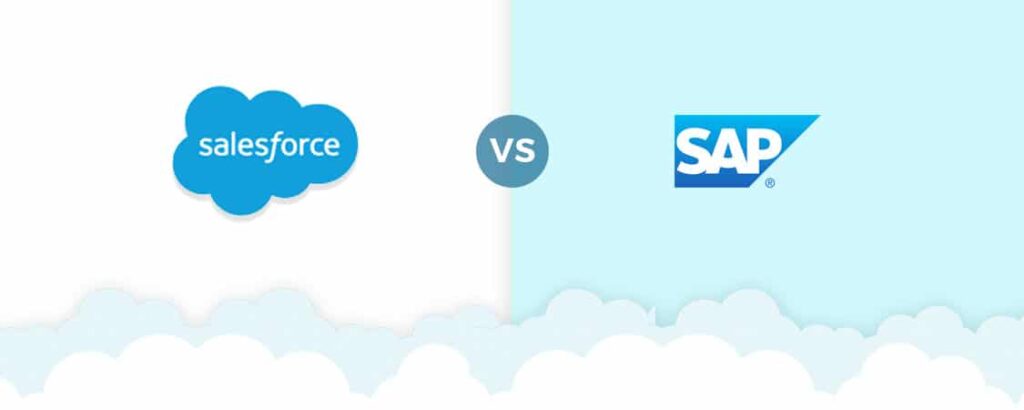 Sales
Salesforce offers regular features as any other CRM from leads to opportunities. Although, integrating with SAP ERP is a challenge.
SAP allows easier integration with SAP ERP systems so you can access and work on all features from a single platform.
User interface and better use
Salesforce has a better track record with consumers due to its user-friendly UI and straightforward configuration solutions compared to SAP.
Industry components
Salesforce has always singularly focused on cloud-based CRM applications, where SAP deals with multiple industry-related components, in addition to CRM systems.
Customer support
Both Salesforce and SAP provide toll-free 24/7 support when it comes to customer support.
However, Salesforce has a dedicated cloud community where users and consumers share ideas and resolve queries to provide internal support. The budding Salesforce self-service community is the reason why many third-party services opt for Salesforce.
Integration
Salesforce nurtures a platform-as-a-service environment providing resources and various tools, renowned APIs for better integration, marketing automation, and more. Its recent integration with MuleSoft serves to offer enhanced services and software.
With SAP, you get to indulge in a cost-effective integration plan through seamless integration between SAP Hybris cloud, SAP Cloud, and SAP Hybrid e-commerce platform to ensure effective customer engagement and overall satisfaction.
Customization
Salesforce is better known for its customizable tools that allow users to build and employ self-made applications, like the Salesforce Lightning app.
Implementation
Salesforce stepped into the cloud-based SaaS industry far longer than its rivals and remained steadfastly dedicated to the same approach.
Add-ons
Salesforce offers numerous external add-ons, tools, and applications equally innumerable features.
SAP offers a package with necessary features clubbed into an affordable bundle.
Pricing
Salesforce offers various features and functionalities tagged with different prices. Its basic plans begin at $25/user/month.
SAP works on a contractual plan with a $75/user/month entry price.
Email utilities
With Salesforce, users can quickly track mails from any email extension, like Gmail or Hotmail, to record and capture customer interactions to analyze and associate them with targeted sales.
Email marketing
Salesforce Sales Cloud has a lot to offer in customization and personalization options to drive sales through mass batch email marketing. The primary goal is catering to users' needs while crafting long-term strategies. The guidance is also on the table to design designated content workflows that encourage relentless content engagement. You can effortlessly find additional resources and step-by-step marketing campaign builders to make your business grow efficiently.
SAP deals with enterprise-level email marketing. Further resources and guidance include campaign management, advanced targeting offers, cross-channel marketing, in-depth personalization, and inbound and outbound marketing program integration for user convenience.
Online case management
With Salesforce, users can access, view, and edit service cases at their convenience while incorporating workflows and internal processes efficiently.
SAP case management allows users to source and stores numerous cases in a user-friendly database. You can also process customer service tickets, manage financial cases, internal HR incidents, track incidents to ensure no details get missed during documentation, utilize pre-defined document hierarchies, establish custom parameters to monitor issues closely, and more. In short, SAP offers robust functionality with diversity.
Business Intelligence
QlikView, the add-on incorporated by Salesforce, delivers real-time analytics with minimal IT support. Monitoring the sales cycle, specifically the hot trends, allows users to drive higher sales effectiveness and efficiency levels. With the powerful BI module, you can design and track marketing campaigns to define improved strategies for advancement.
SAP integrates a few capabilities like KPI reporting from the original BI system. While it can be used directly in the CRM, the functional comprehensiveness gets restricted.
Custom reports
The intuitive dashboard and reporting features in Salesforce give users real-time information about the business. Gathering real-time metrics and analyzing the data gives users the authority to draft custom reports, thereby boosting productivity.
In SAP, users have an intuitive interface to access interactive reports on a single screen. An added advantage of SAPs reporting feature is the unique assigning and access characteristics that ensure necessary exposure from units or users as specified, thus keeping data secure.
Industry Business Process Support
As a CRM advocate, Salesforce provides support to streamline sales, enhance customer support, and marketing business processes. Favorably, the deep-analysis feature comes in handy to analyze crucial client sales info to ensure greater customer satisfaction.
Again, SAP stays true to its diverse functionality by supporting a wide range of business processes, including, but not limited to, finance, procurement, logistics execution, product development and manufacturing, and human capital management.
Knowledge creation workflow
In Salesforce, the knowledge database is extensive, exhaustively so, and user-friendly. Users can create, manage, and view content beginning from how-to videos and articles, forums for informative interactions, tutorial resources, and more. The knowledge base also has role-based access restrictions to multiple functionalities so internal users can access and view data differently than the public.
In SAP, the Interaction Center agents have access to search for solutions, documents, and cases in a database, which can then be shared externally. The public can access a limited version of this system to view FAQs and other information.
Omni Channel experience
Salesforce Commerce Cloud offers a more straightforward cloud-based approach, giving retailers multiple features integrated into a centralized platform, including order management, merchandising, marketing, operations, and more.
SAPs omnichannel integrates all physical and digital touchpoints onto a single platform. This provides your customers with a consistent experience across all devices.
Offline mode
Salesforce supports the offline mode minimally. While users can view almost all features, editing is possible for only a few.
On the other hand, SAP offers complete access to its various offline tools and automatically sync the data when back online.
AI and Machine learning
The AI products that Salesforce has to offer are part of the Einstein package: Prediction builder that envisions business outcomes, the Bot with further custom bots to understand and serve customers better, the Vision armed with in-app recognition feature to identify products, the Language to understand customer intentions and needs better, and Discovery that runs an in-depth analysis to discover data patterns and offer recommendations.
Similarly, SAP offers its AI services which are as follows: Customer Retention that predicts customer behaviour, Deal Intelligence that ranks and organizes leads according to priority, Service Ticket Intelligence, a digital chatbox CoPilot, and Brand that measures brand influence.
Marketing functionality
Salesforce offers campaign and email marketing tools, among others, like a Journey Builder, Interaction Studio, DMP that creates profiles, Social Studio, Advertising Studio, and more.
In addition to automated campaign settings, SAP offers an aggregated view of data spread across various channels while also providing end-to-end customer satisfaction solutions. A few of its tools are the Marketing Analytics tool, Dynamic Customer Profiling, Marketing Lead management and Resource Management, and more.
Backoffice integration
While Salesforce primarily offers CRM-centric solutions, integration with ERP systems enables finer business streamlining. The upfront integration costs are high, but that is not a deterrent since Salesforce provides seamless integration with an intuitive API.
In comparison, SAP is the leading ERP solution provider, and integrating with Salesforce, which is CRM-specialized, boosts business processing. Integrating SAP CRM with a current ERP is smooth since the back-end is already SAP-based. Utilizing SAP extensions serves to cut down on the subscription costs as well.
Contract terms
Salesforce works on a per-user subscription basis, with a low entry fee offering access to the basic features. However, unlocking other features happens at different prices per feature. You can expect long-term contracts and price hikes upon renewal. However, there is also the option of having your account and data deleted within a few days when needed.
SAP is similar to Salesforce regarding the long-term contracts and subscription per-user module. But you will find that their terms are more flexible and available at lower costs.
Salesforce Vs. SAP According to Customer Reviews
Consumers agree that Salesforce and SAP are among the top leaders in the CRM industry today. The market shares and SAP's recent deployment mode to cloud-based services are not the only differences that separate them.
The following features are the defining criteria when choosing which CRM better suits business needs to be based on customer reviews.
User experience
The user-friendly aspect of the software gets felt from the very first impression. Although Salesforce does overload the features aspect, it also simplifies how the data gets presented to the users.
Consumers rank the UI of Salesforce higher than SAP's owing to efficient layout and design while also keeping functionality in mind.
Range of solutions
Salesforce is primarily a cloud-based application with the scope of expansion depending on external integrations like add-ons. SAP is a complete ERP destination that offers end-to-end business solutions on a single platform.
Users prefer having the convenience of business solutions in a single platform rather than indulging in various marketing apps and add-ons.
Affordability
Consumers find that Salesforce asks for a higher premium than SAP, even though its primary functions are available at a lower entry price.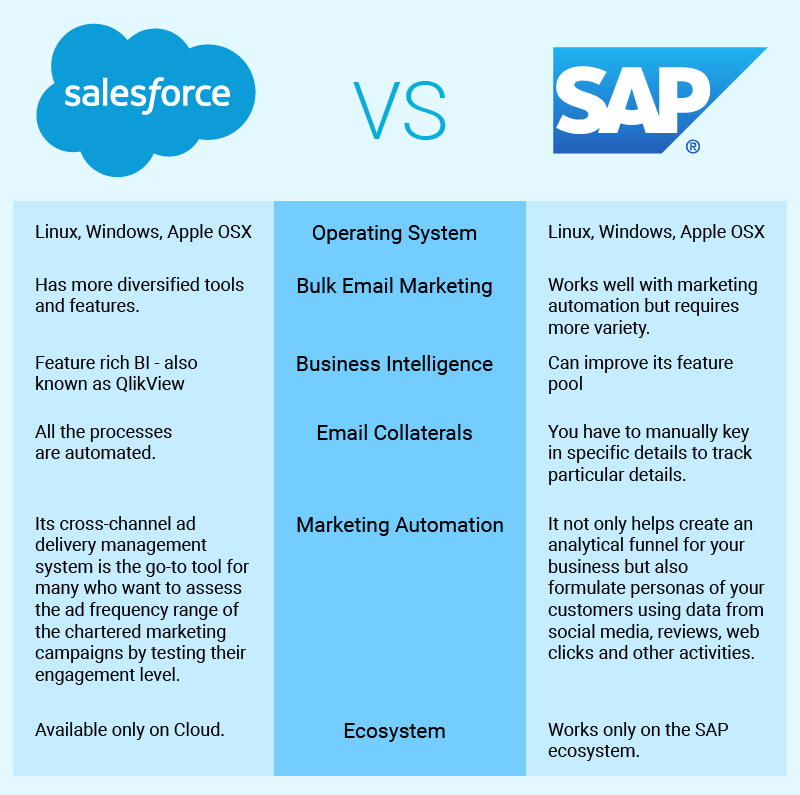 What do users say about their Salesforce and SAP software experience?
About Salesforce:
The highlight of Salesforce services was customer service improvement through case management, contact history, and custom management options.
Timely report management, especially to the R&D department, allowed businesses to prioritize fixing present issues and address pending product enhancements to improve customer experience.
The challenge of working with Salesforce was mostly the integration aspect to other businesses.
Due to the complexity of current business systems, it was a challenge to consider expansion, dealing with various vendors, and making available access to further CRM solutions.
About SAP:
The highlight of SAP services is their UI and report creation flexibility. The multi-tab option allows a clear and wide lens to view customer activity and interactions.
Another critical point was the seamless light integration with CTI that facilitated operations with little effort.
The wide range of embedded reports and specific workflow creation features also cast a positive first impression.
The challenge of working with SAP was integrating other SAP systems, including a simple chat tool.
In addition to facing creation limits, a few compromises were made during the integration procedure. Also, the customer support regarding integration queries was not as reliable as expected.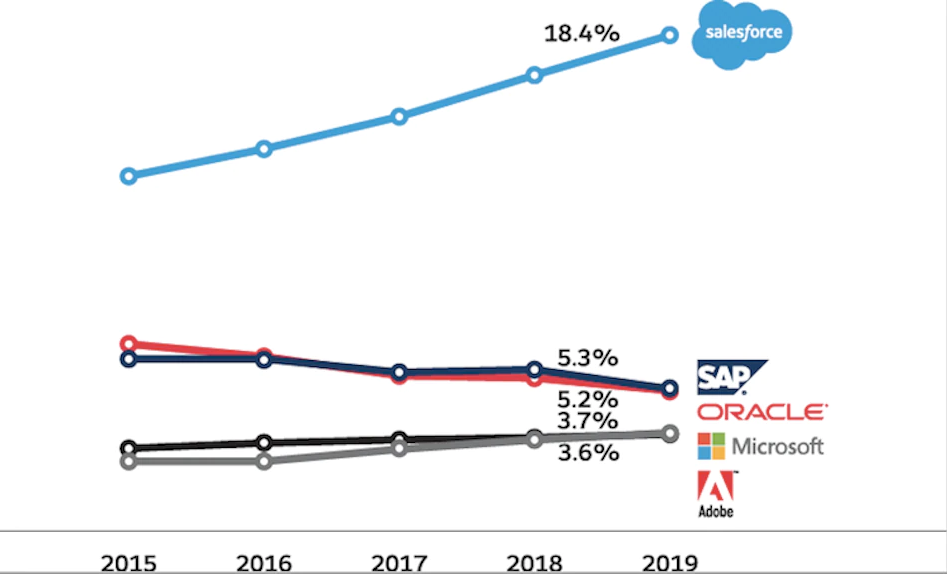 So, which CRM is the best for you?
The comparison done in this article does not single out which CRM is better than the other. Instead, it should serve as a guide to compare the various features and judge which suits your business requirements better.
Both CRM solutions are powerfully designed and by renowned companies. Each has comprehensive functionalities in its own right and can often get challenging to navigate.
So, please give it a good thought and sort out your business priorities since the right choice has all the potential to improve your sales and customer satisfaction efficiently.