Salesforce is an engaging and innovative platform making dynamic strides in the customer services sector. The fact that it makes efficiently exhaustive and ever-evolving user-centric CRM solutions at affordable rates indicates fierce dedication in furthering their ambition.
With resourceful editions available to the masses, Salesforce requires the use of licenses to ensure accessibility to specific and general features of the software.
In this article, we cover the various license types and the functionality they facilitate.
About Salesforce Licenses
Salesforce offers four editions packed with specific essentials to suit various CRM needs. Not every consumer or business requires all features, hence the convenient segregation of features into strategic editions.
Licenses in Salesforce are merely permissions that allow complete access to a particular feature to a user. Different editions entail the use of different licenses. Also, multiple licenses are capable of allowing access and support to a single feature.
These licenses can get availed by individual users, multi-sized teams, large organizations, and even a tiered-organizational system depending on the level of desired functionality.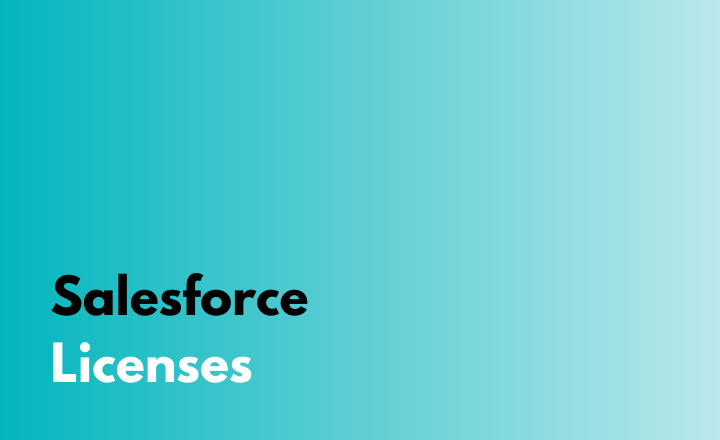 Types of

Salesforce Licenses
Accessing the general Salesforce features requires users to own the basic/standard User license. The other types of licenses include Feature licenses and Permission set licenses.
Further, Salesforce offers usage-based entitlements to enable and restrict access to users over a specific period. The following are the types of Salesforce licenses available.
User License
A user license is the basic of licenses that unlocks access to general features, depending on the Salesforce edition. You need to have a single license per user.
The admin gets to assign access to data through user permissions supported optionally by permission sets.
Permission Set License
Think of permission set licenses as a keyring with multiple keys. This privilege gets assigned to specific users to unlock and access features not supported by the User license.
Also, the admin can choose just how many permission sets a user can have access to depending on the level of authority required.
Feature License
As the name suggests, a Feature license is like an odd key in the set of permission keys assigned to a user.
This permission allows a user to access an additional feature not included in the User license permission. A single user can have any number of feature licenses as deemed by the admin.
Usage-based Entitlements
Usage-based entitlements are limited resources made available to users/organizations periodically.
It could be the record limit for users entitled to the Data.com list or the number of logins allowed monthly to a specific partner community.
Understanding

User Licenses
The numerous Salesforce features call for equally numerous licenses to allow specific access. Here are the sub-types of User licenses and a brief description of each.
Salesforce
The Standard User License is considered as the basic Salesforce license which allows users access to all features available in the standard CRM application. It is present in all Salesforce editions and is the most frequently availed license.
Salesforce Platform
The Salesforce Platform license allows users access to custom features and those available in the AppExchange application, sans the usual CRM functionalities. It also provides selective access to specific features while also being around to work offline.
Core functions like the Dashboard, Accounts, Reports, Contacts, etc., can get accessed with the Salesforce Platform license, and other functions like Sales forecast and Opportunity, and access to a few standard features are not supported by the license.
Lightning Platform
Also known as the Force.com-One application, it has severe limitations and is not accessible by new users. The functionality of the Lightning platform is primarily for the Enterprise and Unlimited editions.
Users with this license can access a specific custom application that is in turn specified to ten custom objects, and no more. But they have unlimited access to custom tabs. Further, account and contacts objects have a read-only permission limitation on them. Admittance to the standard CRM functionalities is also not possible.
com-Free App
Similar to the Force.com-One App, the com-Free app also allows users access to a single custom application sans standard CRM functionality. Account and Contact objects also cannot get accessed with the com-Free app license.
Knowledge Only User
Available for the editions above Enterprise-level, the Knowledge Only User license provides access to the Salesforce Knowledge application. It allows authorization to various tabs like Reports, Files, Chatter, Custom tabs, Custom objects, Articles, and more.
The Article Management tab requires admin permission while the Articles tab has unrestricted access through the 'View Article' permission included in the Knowledge Only profiles.
Content Only User
In addition to the standard Salesforce CRM functionalities, the Content Only User license authorizes access to tabs like Subscriptions, Workspaces, Content, and Ideas and Home.
Guest User
The Guest User license is primarily meant for use by guests or public users requiring access to Salesforce sites. Public users can freely view files made available to the public and access the Community files only when the Community option gets enabled.
This license is available for the Developer edition and above.
Customer Portal Manager Standard
The CPM license is intended for use by Contacts wanting to view customer support data through the Customer Portal. Its use is dictated by the Customer portal role hierarchy. Based on their profile levels, users can request the 'Portal Superuser' permission to access custom objects as needed.
Customer Portal Manager Custom
The CPMC is an upgrade of the CPMS license that allows users access permission based on their profiles. Receiving the 'Delegated Portal User Administration' permission allows them to run reports efficiently.
There are also two separate user licenses, the Silver and Gold Partner, available to the Partner users when access to additional features gets required.
High Volume Customer Portal User
Users with the HVCPU license can access customer support data belonging to an organization. Further, specific rules like not having a specific role or not appearing in the role hierarchy, apply to them based on their profile settings.
The HVCPU license limits record data access while offering some leniency in accessing features like Documents, Assets, Ideas & Questions, Contacts, Accounts, Custom objects, and Cases.
Chatter Only
Also known as Chatter plus, this license can get owned by existing chatter plus users without the Salesforce license. The license allows access to a few Salesforce objects and the use of the Chatter feature. Further purchases and upgrade to the Lightning platform starter is also available to the Chatter Only license holders.
The license permits users to carry out the following actions:
Add records to groups
Utilize and certify workflows
Access Reports and Dashboard
Access Contacts and Accounts
Authorize the update of limited custom objects
Use features like Content, Answers, and Ideas
Track and manage activities using the Calendar
Chatter Free License
As the name suggests, users with this license have full access to the Chatter feature even if they do not own the Salesforce license. Also, they cannot view any Salesforce tabs or access related data and objects.
Chatter External
Chatter External is permission granted to outsiders or customers, where the admin invites them into a group to interact with other selected users and access that group's information.
In Conclusion
With the various licenses a user can get assigned, keeping track of them is also made just as simple. The Lightning Usage application allows you to track active user permissions through the Active Licenses tab.
It can get challenging to understand and keep in mind the various permissions when assigning to a user. Although, optimally utilizing the permission authority helps unlock various business potentials through targeted ROI and efficient productivity