Salesforce is a popular cloud-based customer relationship management software that supports Marketing, Service, Sales, and several other areas that can be implemented easily and without utilizing technologies for developing applications. 
Being the top business automation system, Salesforce is utilized by more than 100,000 companies all over the world. 
The cloud-based SaaS has occupied approximately 20% of the market by delivering various kinds of products, thus assisting organizations to connect with customers and enhance their overall efficiency.
A major highlight of Salesforce is that businesses can access entire industry products or offerings on the cloud that is a common platform. Moreover, the business can implement process automation and develop seamless workflows.
If you are implementing Salesforce in your business, there are high chances for your company to be a great one. 
For example, Facebook, Amazon, and Google have also implemented Salesforce. Salesforce provides a solid ecosystem for businesses to develop and share customized software applications. 
Another main highlight of Salesforce is it provides specialized solutions for various kinds of industries.
If you are utilizing Financial Services Cloud, categories such as insurance or retail banking are divided into sub-sections like insurance, retail banking, commercial banking, and wealth management. 
It means Salesforce consists of industry-associated data models and processes, enhancing the features of analytics and Artificial Intelligence.
Salesforce provides a large range of services and products for any organization that is interested in implementing and functioning its services and businesses. 
Some of the top salesforce products include Sales Cloud, App Cloud, Community Cloud, Analytics Cloud, Marketing Cloud, Service Cloud, etc.
Salesforce Sales Cloud
Salesforce's Sales Cloud platform is part of a Salesforce CRM system. 
The Sales Cloud platform was designed primarily for salespeople.
This cloud-based Salesforce Sales Cloud CRM platform holds lead, customer, and sales information in one place. 
Sales Cloud systematizes the entire sales process. It is utilized by both representatives and managers to deliver more worth to sales.
Salesforce Sales Cloud comes in four editions, each priced differently, to meet the needs of businesses of varying sizes. 
In addition, it can be used in conjunction with the other Salesforce Cloud platforms: Marketing Cloud, Service Cloud, Community Cloud, and Analytics Cloud
Sales Cloud Features
By utilizing Sales Cloud, your sales process can be automated and customized right from your desktop. 
It is a single platform where the whole sales team can input and access all customer details.
It helps to rank your leads, enabling you to pinpoint the most promising opportunities and connect them with the best rep to maximize your closing rates.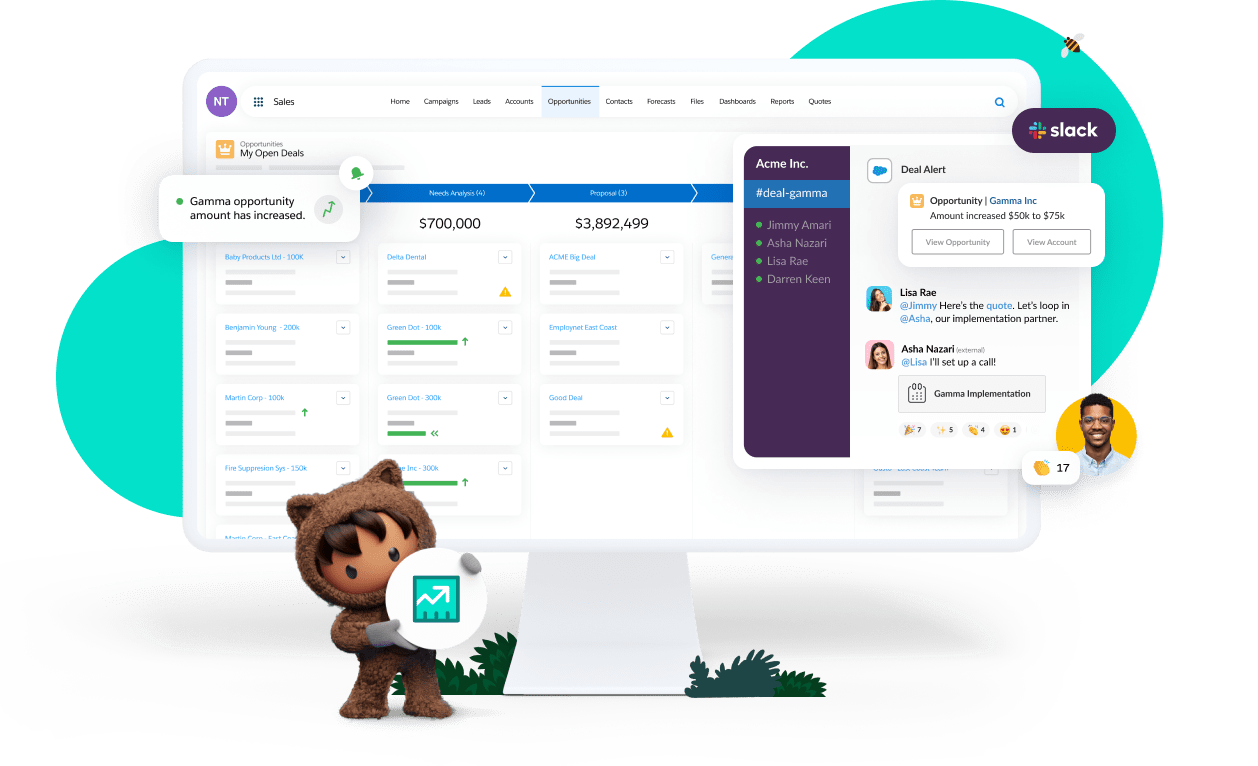 Your forecast can be analyzed, the data visualized, and trends can be discovered. 
The Sales Cloud platform is also flexible enough to be customized to your business requirements, style, and language.
The team can log in at any time – from a mobile device or from a desktop computer – to see how prospects or customers are doing. 
To move a prospect through the pipeline, reps utilize this tool to save time on administrative work.
In addition, sales managers can ensure that the right information is being entered into records and that reps are filling in the information that is most useful to them.
Among the Salesforce innovations are Einstein, Salesforce's AI-based CRM solution: 
In addition to Salesforce tools, Einstein can be used with Sales Cloud. 

Einstein will work with the data once it is in the cloud. 

Leads can be prioritized, interactions automatically logged, phone numbers autodialed, and follow-up reminders sent with the use of Einstein.
Salesforce can be linked to Gmail, Exchange, Office 365, and other email clients, so your reps can update Salesforce records with email information instantly, with few clicks.
Industries that Use Sales Cloud
As reported by enlyft.com, the largest user segments of the Salesforce Sales Cloud platform are Computer Software Industry (30%), Information Technology and Services Industry (13%)
On the whole, Salesforce Sales Cloud is utilized by industries such as Banking, Education Management, Telecommunications, Retail, Computer Hardware, Insurance, Health Care and Hospital, Financial Services, Information Technology and Services, and Computer Software industries.
More than 72% of Salesforce Sales Cloud customers are from the United States and about 6% of customers are from the United Kingdom. 
Salesforce Sales Cloud is used in countries such as Singapore, Switzerland, Netherlands, France, Germany, Australia, India, Canada, UK, and the US.
Who Should Use Sales Cloud?
Sales Cloud is a must for anyone who is looking to centralize sales information by connecting all team members and automating the entire workflow.
This is an excellent solution for businesses of all sizes. It is useful for both the B2C and B2B customer segments.
The platform offers four different editions so you can find a version that meets your needs, and the extent of customization available provides greater flexibility for any business needs.
Salesforce App Cloud
Salesforce App Cloud is a mobile app management and development solution. 
It consists of all the services and tools you require to develop applications. With the help of this tool, you can develop mobile and social apps in just a few clicks. 
The App Cloud permits developers to concentrate on developing solutions instead of focusing on infrastructure. As a product of Salesforce, the App Cloud is an excellent initiative that aims to combine cloud, mobile and social platforms for enterprise developers. 
It consists of amazing tools such as:
Trailhead

Identity Embedded Login

Platform Events

Lightning

Force.com

AppExchange

Heroku Shield

Heroku Enterprises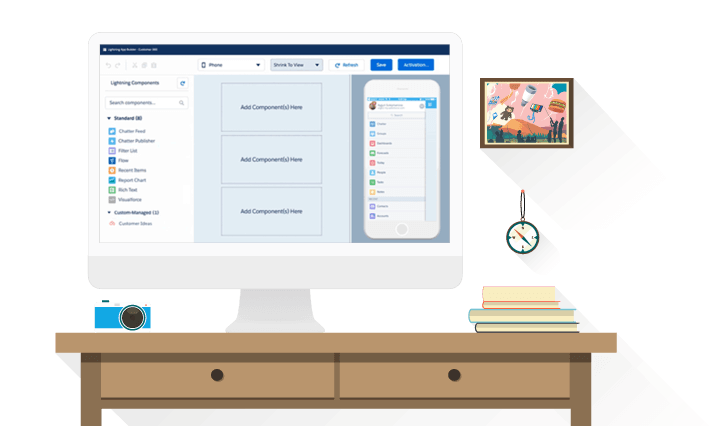 Why Select App Cloud?
Integrated and connected
It lets the user link and integrates with server-based data sources or databases utilizing powerful APIs. 
Business Process Automation
It permits you to develop mobile apps for all departments in the organization from Human Resource to Finance in a few clicks and thus you can notice efficient work and fast collaboration in the business. 
Mobile Applications
 It allows the development of mobile apps that help in increasing customer interaction and evaluates customer data.
Customer Experience
The app consists of everything you can want to develop practical applications which improve customer interaction and customer experience. 
Salesforce Service Cloud
Salesforce Service Cloud is the complete service management platform that aids businesses to function with channel partners and customers to offer the best service efficiently. 
Service Cloud is an extension to Sales Cloud. In Sales Cloud, you can create cases and emails to cases, while in Service Cloud, you can create entitlements and milestones. It's mostly omnichannel.
The Service Cloud was built on top of the Salesforce Customer Success Platform. This system gives you a 360-degree view of your customers and allows you to deliver more intelligent and personalized services.
Some of the impressive benefits of Salesforce Service Cloud for companies include:
28% upsurge in agent productivity

26% upsurge in customer retention

31% quick case resolution

22% reduction in customer support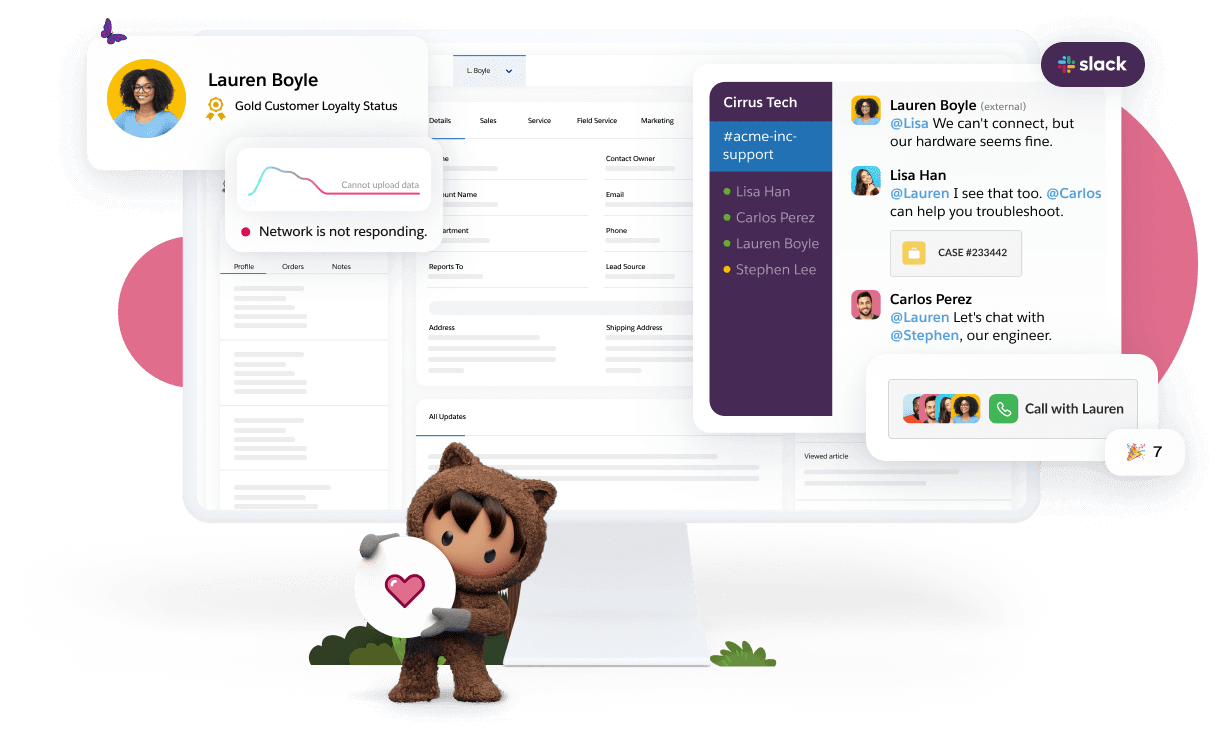 When it comes to analyzing the benefits of customers, the customers could notice about a 35% upsurge in customer satisfaction. 
As per research by Bain & Co.- A simple 5% upsurge in customer retention easily increases profit for about 25% to 95% or more. 
It is the reason Salesforce Service Cloud should be executed by talented consultants. Thus, you can obtain the tool and get it implemented right for you. 
Salesforce Service Cloud aids in managing customer support across all channels such as social media, SMS, live chat, email, and more from a single central hub. 
It permits service teams to develop self-service solutions such as knowledge bases and portals and service analytics permitting them to evaluate agent performance and utilize information to improve and automate workflows.
If you have recently connected with a business through a Live Chat or by establishing a support ticket, it means the company is utilizing a system like Service Cloud. 
The best features of Salesforce Service Cloud are as follows:
Visual remote and live agent assistant

Agent workspace

Automated workflows

Omnichannel customer routing and service

Customer service management

Case management
Some of the add-on products in Service Cloud include:
Salesforce Surveys Response Pack

Customer Lifecycle Analytics

Service Cloud Voice

Service Cloud Einstein

Salesforce Anywhere

Digital Engagement

Field Service
If you're new to the Salesforce universe, it can be tricky to figure out which Salesforce cloud is best for your organization.
As you consider Sales Cloud or Service Cloud, you must recognize the general difference is that each was designed to complement specific types of features you need to sell and support your products.
Salesforce Marketing Cloud
Previously referred to as ExactTarget, Salesforce Marketing Cloud is said to be the digital marketing support of the Salesforce family. 
It is one of the most popular products utilized by Digital Marketers. 
It helps them in developing one-to-one and personalized email communications that drive better marketing return on investment and customer engagement. 
It aids in enhancing customer engagement and develops customer journeys with a brand in various channels apart from email such as ads, social media, mobile, and website.
Marketing Cloud has a number of capabilities that span the marketing domain. Among them are:
Real-time customer engagement

Automation of marketing and email

Engaging with, listening to, and advertising on social media

Push notifications (SMS) and mobile messaging

Customer marketing analytics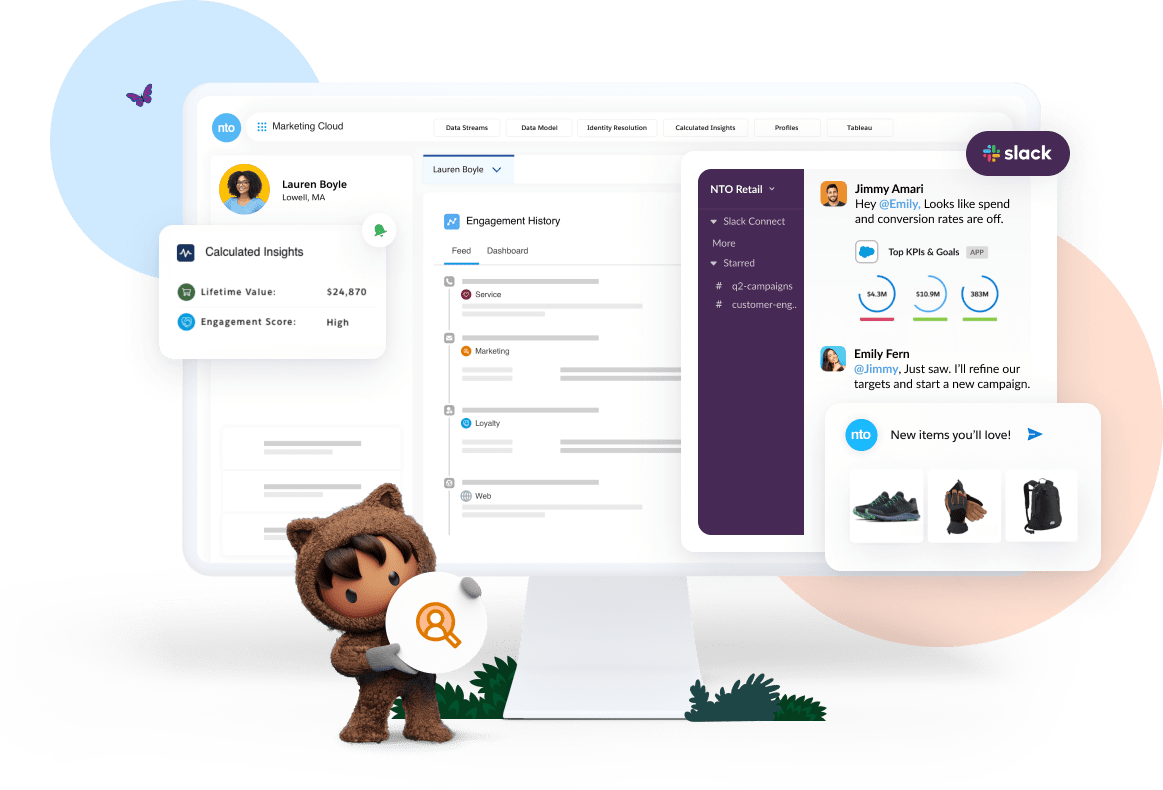 Marketing Cloud platform utilizes a predictive analytics engine that identifies products and content that perform excellently with individual users. 
Custom reporting tools utilize Einstein AI to evaluate customers as per their probability of accomplishing a particular goal like contemplate opt-ins, conversions, or interacting with a particular piece of content.
Benefits of utilizing Marketing Cloud platform:
Impact analysis: It performs entire evaluations of the customer voyage through various devices and channels utilizing Google Analytics 360 and Artificial Intelligence.
Develop interest throughout the journey: The platform helps in generating awareness and attention throughout the entire process and also offers the understanding to provide customers with actions that are suitable for them.
Personalization with AI (Artificial Intelligence): It permits data combined with the Einstein tool and thus, the interactions remain organized with AI assistance. 
The platforms also support customized interaction with customers depends on their association with the organization.
Better knowledge about the customer: It remains possible to associate information from various sources and devices by utilizing this platform to get a single combined idea of the customer. 
Moreover, you could also obtain and initiate third-, second-, or first-party data.
Marketing Cloud makes it possible to develop customized content or sales material for each customer through channels such as e-commerce, mobile advertising, online advertising, email, users communities, or social media.
Salesforce Community Cloud (Experience Cloud)
Regardless of how large or small a company is, online communities have become an integral part of their CRM strategy. 
CRM Community Cloud allows businesses across a range of industries to better reach and manage employees, partners, and customers through an online digital experience. 
Through this platform, customers can provide feedback, receive customer support, qualify leads, receive training, and much more. 
Salesforce Community Cloud is a social platform that lets businesses create branded websites connecting employees, customers, and partners.
The following are three types of community cloud licenses:
Partner Community

Customer Community Plus

Customer Community
Choosing the right community license for external users is the single most challenging task for community projects.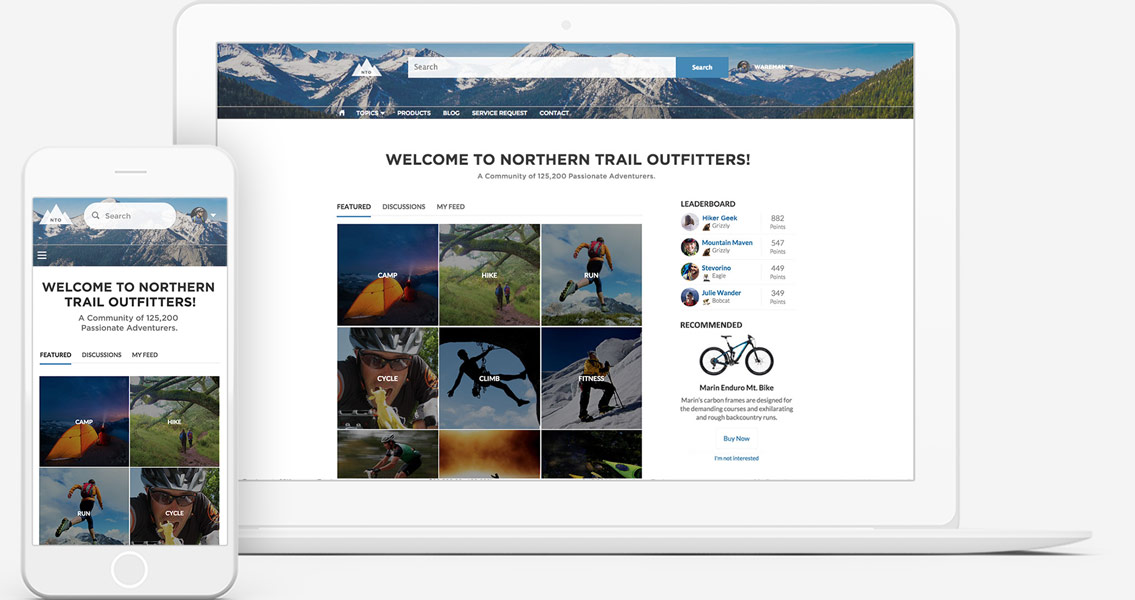 Here are some Community Cloud features:
Business Integration entails configuring and integrating data across various sources and systems.
By personalizing relationships, businesses can better serve their customers and partners, allowing them to find the information they need. 
Branding assists you in creating communities that reflect the brand image by providing a number of predefined themes and templates. 
The Salesforce Community Cloud enables employees to collaborate and engage with internal and branded communities to enhance their productivity.
The engagement function allows communities to be created online and their members kept active.
Through mobile technologies, you can let your communities have access to information from anywhere and collaborate with each other. 
Community Management & Analytics offers you insight into your community members' behavior and interests so you can personalize and optimize your services and products accordingly.
Using Salesforce community cloud, partners, resellers, and distributors can connect directly to each other and accelerate sales.
Salesforce's Community Cloud provides companies with an excellent framework for connecting with outlying communities through Community licensing. 
Salesforce Health Cloud
Salesforce Health Cloud is a health IT CRM platform that offers doctor-patient relations and records management features.
Salesforce.com states that 71 percent of Millennials want mobile apps for health management to assist them in active participation. And 63 percent want to be able to send information from wearable devices directly to their doctors.
Health Cloud integrates medical devices and wearable information with electronic medical records (EMRs) to provide one-to-one relationship management. 
Secure collaboration between caregivers is enabled by a system component called Private Communities. 
Patients are able to view their care plans, connect with health care providers, find answers to common questions, and complete forms before appointments in advance.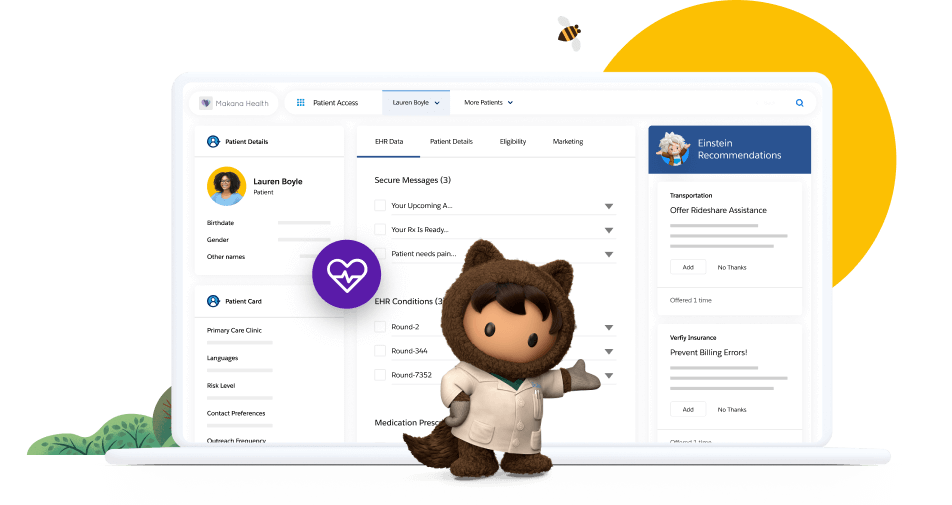 As part of its Health Cloud initiative, Salesforce collaborated with Accenture, Deloitte, MuleSoft, Persistent, Phillips, and PwC.
As opposed to records, Health Cloud focuses more on relationships. A high-level description of Health Cloud is that it is built on top of Salesforce CRM, supporting processes such as:
Acquiring new patients

Campaigns for patient marketing

Engagement and management of patient relationships

Recruiting and reaching out to physicians

Surveying and assessing patients

Management and tracking of care plans

Patient risk stratification
Health Cloud can be a viable solution if improving patient outcomes and enjoying enhanced experiences, as well as acquiring patients, are priorities for your organization.
There are many reasons why Salesforce Cloud can be beneficial to your business. 
Salesforce is a great choice if you're looking for high-quality customer service, a single platform to manage key operations and relationships, and to drive more sales. 
Get in touch with the Salesforce experts at Askelp to learn more about solutions that can help your business scale and evolve. 
If you have any questions, our team will be delighted to answer them and suggest the best solution for you.