CRM systems are a must-have for any organization, whether it is well-established or starting. Using a CRM, on the other hand, is about more than just raising profits; it's about enhancing and securing your company's continuous growth. To achieve this, your company will need a CRM software suite that is both effective and efficient. Saying this is simpler than really doing it because not every CRM solution is suitable for every company. Even still, when it comes to CRMs, HubSpot and Salesforce are the two most frequently mentioned names. Here, you'll learn about HubSpot vs salesforce CRMs.
Vitals Things to Compare HubSpot and Salesforce
1. Documentation & Workflows
Complex approval processes and large files are strengths of Salesforce. Even in this digital age, signing a contract is still essential to the business. Numerous pieces of paper must be authorized, sent, signed, and returned to complete a transaction. To go on to the next sale as rapidly as possible, you'll need to finish these tasks as swiftly as possible.
Since it can automate complex document processes while also functioning as a giant cloud storage drive for all sales-related documents, Salesforce excels in this field. In Salesforce, you can easily create, modify, and alter workflows for your processes.
Before a sales representative presents a contract to a customer, perhaps it should be reviewed and approved by a sales manager. Alternatively, an email should be sent to one of the regional salespeople when a lead becomes an opportunity.
Automating and linking virtually any procedure to the related records is possible. If your company has an Essentials license, you'll get 1 GB of storage, and each user will be given 2 GB of storage.
Paid workflow tools are available on the HubSpot platform. Salesforce, however, provides far more flexibility, customization, and depth than any drag-and-drop platform.
In HubSpot's free CRM, users can upload files as large as 250 megabytes (MB) and have access to up to five shared documents at a time. You'll need to upgrade if your firm requires more than 250 MB of personal file storage. There is no maximum amount of data that HubSpot can store.
2. Integrations
Integrations are relied upon by the vast majority of modern businesses to keep working days from becoming disjointed and productivity from dwindling. When it comes to HubSpot and salesforce integration, Salesforce has the upper hand. Open APIs enable companies with Developer access to build their integrations.
Salesforce integrates with a wide range of third-party solutions to better manage your business. App Exchange is the Salesforce Ecosystem's platform for products and integrations, and it's one of the most advanced in the industry.
For example, you may link it to apps like SAP HANA and GCP as well as Quickbooks and Mail Chimp. A cloud-based SaaS application, as well as on-premises legacy systems, can be integrated.
Additionally, MuleSoft was just purchased by the company. With 270 pre-configured connectors, HubSpot's integration library is simple to utilize. Slack, Jira, and Mail Chimp are just a few of the applications it integrates with.
3. Sales Features
Aside from unlimited email scheduling, Hubspot CRM's free sales functionalities are more limited than those offered by other HubSpot marketing products. There are some features that HubSpot can't offer for free because they require a lot of tracking and memory storage.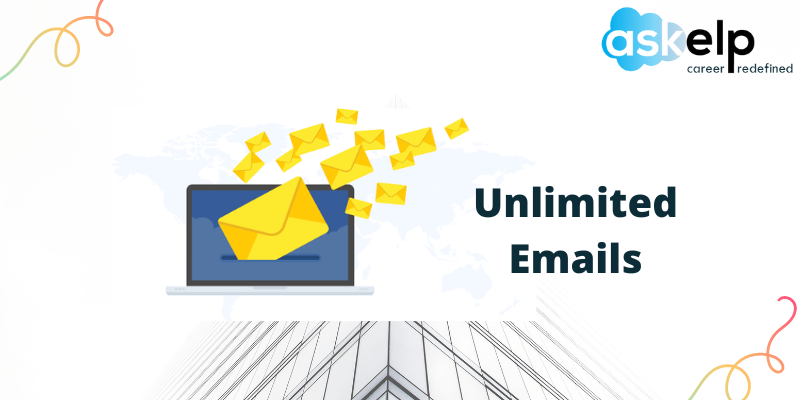 For example, you only get five saved email templates and up to 200 email notifications, which sounds like a lot but can quickly become overwhelming for sales teams with many emails to send out. Since Salesforce was initially intended as a CRM to help firms grow their sales, most organizations will likely learn about Salesforce as a software option when they begin to establish their sales teams.
Because of the numerous price tiers and add-ons available, Salesforce Sales Cloud is designed to scale. The Einstein artificial intelligence technology and the Pardot B2B marketing automation are just two examples available to anyone with a Professional subscription or higher.
4. Comparison of Analytics and Reporting
Customers can access dashboards for lead, business, and task data in HubSpot's free CRM. The CRM is free for as many users as you want and as many contacts as you wish. However, the CRM's analytical powers are limited due to its limited data storage capacity.
A marketing or sales hub must access all of the analytics and reporting features. Advanced analytical dashboards are available at the Enterprise level of the Marketing Hub. You can buy custom dashboards and reports from the Professional package.
5. Marketing Functionality
HubSpot's CRM Free has many useful marketing features, such as lead tracking and form collection. Each technology helps generate a pipeline of quality leads. The tool records website activity for seven days to show what the Marketing Hub can do.
HubSpot was created as a marketing automation platform, so its paid features are strong and easy to use, especially for SMBs without in-house marketing employees. Salesforce CRM offers a feature-rich marketing cloud in several different package sizes.
Marketing and marketing automation tools are included in each module to make it easier to collect and transmit leads to the sales team. The mobile platform allows teams to send SMS and notifies customers directly from their smartphones, where they spend most of their time.
Thanks to Salesforce's cutting-edge social listening technologies, it is no longer necessary for teams to rely on third-party tools for monitoring online discussions. The Advertising Studio uses omnichannel marketing technologies to ensure that the right message reaches the right lead at the right moment. In addition, the Salesforce Data Studio connects data from many technologies to assist marketing teams in visualizing their achievements.
Final Thought
Salesforce vs Hubspot, Both CRMs, Hubspot and Salesforce, have advantages and disadvantages, as you observed. It's vital to understand the company's needs before deciding on a CRM. Salesforce has a customer satisfaction rating of 4.4/5, whereas HubSpot has a rating of 4.5/5.
HubSpot is the most excellent option for a small business because of its lightweight foundation and the wide range of features and connectors it provides. HubSpot is the right choice as a marketing platform for small businesses that plan to grow in the future.
On the other hand, Salesforce is the right choice if your company has a larger community to serve and extended capabilities within the constraints of needs, structure, and objectives.