Career changes are traditionally difficult and can be associated with sacrifices in salary. With Salesforce, changing careers has never been easier: time and dedication are all you need.
Salesforce has now been around for almost 21 years, and its steady development has included the addition of more products to adapt to the transforming business needs that have prevailed throughout these years.
By 2024, Salesforce will create 4.2 million new jobs, according to a recent study by IDC.
This is one of the best opportunities to launch a new career on such an interesting and fast-growing platform.
According to The Burning Glass Report, students who add Salesforce skills to a diploma or associate degree will have access to 23,000 new jobs openings. You can earn a competitive salary with Salesforce skills, no matter what your role is.
What is Salesforce & Why Salesforce is so Popular?
Salesforce is ranked among the top technology companies in the world. SalesForce is a Software as a Service (SaaS) provider, which means their services are delivered from web browsers or via apps.
In other words, it provides a CRM software that keeps the information about your customers, their interactions with you, and their purchases.
All of your favorite companies are powered by Salesforce, including Apple, Facebook, Uber, Netflix, Spotify, Dropbox, or Gmail.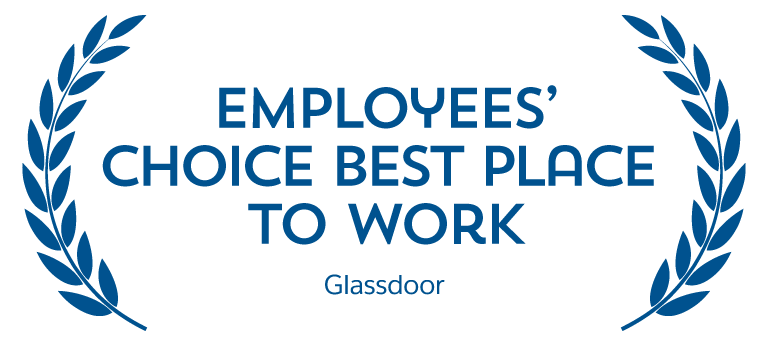 How to get a job at Salesforce?
Do you want to begin your new career in an industry that's growing rapidly?
Salesforce is the world's top customer relationship management(CRM) platform. The demand for Salesforce professionals is high worldwide, and they command a high salary.
You will have an easier time finding a job if you have the right experience and certifications. Additionally, Salesforce professionals grow their careers rapidly.
Our guide will walk you through each step so that you can acquire the necessary skills for a career within Salesforce.
1. Getting to Know Salesforce
The best way to get a job in Salesforce is to learn what Salesforce is and why companies buy it.
It's important to understand how Salesforce solves business requirements by building proper customization and automation in various fields.
Here is more information about Salesforce.
2. Knowing Your Role
To advance your career, you need to know where you stand within the Salesforce ecosystem.
Statistical research conducted by ergonized.com shows the percentage of vacancies in each role represented in the image below.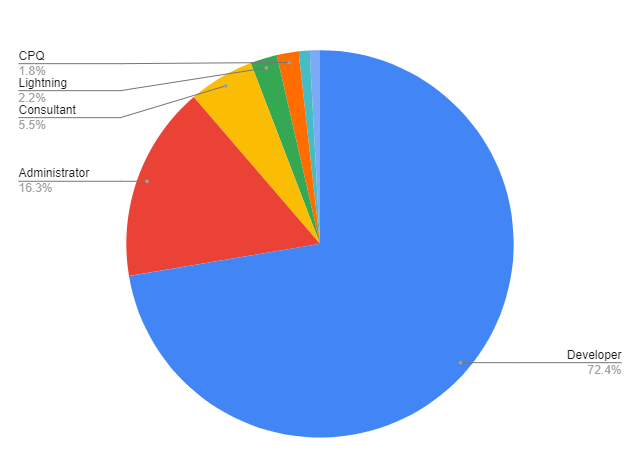 Knowing where you are now and where you want to be in the future is the first step to advancing your career in Salesforce.
There are beginner, advanced, and expert levels roles in Salesforce for Administrator, Developer, Consultant, Marketer, and Architect.
Salesforce Admin automates complicated business processes, builds dashboards, and trains employees to use Salesforce.
Salesforce Developer develops applications as well as automates repetitive tasks.
Salesforce Consultants improve business and provide solutions by addressing business challenges.
Salesforce Marketers use targeted marketing campaigns and automation tools to engage audiences easily.
Technical Architects are responsible for integrating and designing foolproof systems
A person can do one or more of the above roles at the same time. Each of the roles and levels in Salesforce has well-defined certification paths.
By obtaining advanced certifications in your field, you can further your career. Discover your career in salesforce.
3. Join Trailhead
Trailhead is a free innovative place to learn about the Salesforce platform in a fun and interactive way from anywhere. Salesforce basics can be learned without paying for training through Trailhead.

Salesforce invented Trailhead to help up-skill the next generation of professionals.
Salesforce's Trailhead platform allows users to learn different modules. Each module ends with hands-on exercises that must be completed and validated by the trailhead.
4. Earn 50+ Trailhead Badges
Obtaining certifications will provide a deeper understanding, whereas gaining Trailhead knowledge will provide a broader perspective.
On your resume, you should mention your Trailhead badge. The time you spent learning Salesforce shows employers that you're serious about the learning process.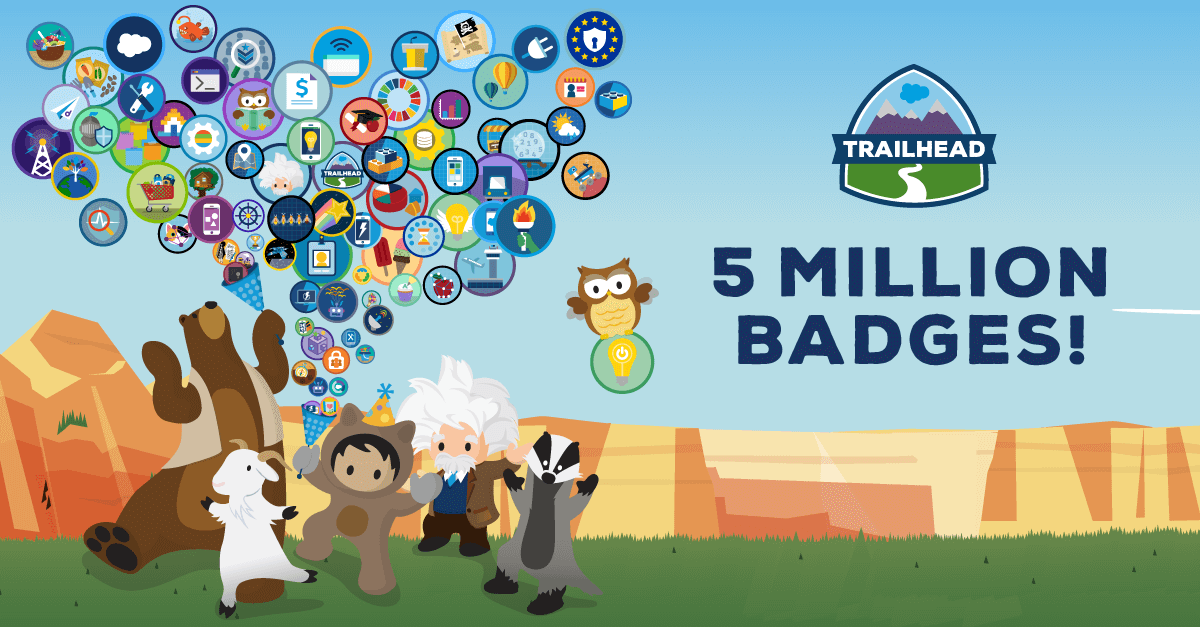 A Trailhead is composed of modules. Within each Module, there are several different sections that represent lessons or mini-lessons, which are followed by quizzes or hands-on exercises.
You can choose trails to help you find out where you want to go with your learning.
5. Earn 3 Super Badges
These are a similar concept to Modules in Trailhead, but about 10x larger and harder!
They run you through complex business challenges, and you must design a solution to meet the needs. Superbadge is not easy and will be a great addition to your CV.

You can post your badges to Twitter, your LinkedIn profile and show your expertise once you've earned one.
There are different tracks (routes) to learn Salesforce. These include Admin, Advanced Admin, Developer, etc.
Steph Herrera, a Salesforce MVP, suggested this technique to enhance career opportunities.
It is useful to complete Trailhead badges when looking for a job, and any employers who know about Trailhead activity are probably active Salesforce users (a good sign).
You shouldn't try to build a career on your own with Salesforce. Salesforce offers many career opportunities. Here are some resources that can help you speed up networking.
6. Get Salesforce Certified
You will be able to focus on getting Salesforce certified as soon as you have a solid understanding of the platform. Currently, Salesforce offers over 35 certifications, spanning a range of products and disciplines.
In most cases, getting a Salesforce certification will be a requirement, and the Salesforce Certified Administrator is the best choice at a foundational level.
Salesforce certifications are an important part of becoming an expert. Your ability to utilize the platform will be evident to certain employers.
For those who put in the effort and spend time learning Salesforce, the Salesforce Certified Administrator certification is very doable.
7. Get More Than 3 Salesforce Certifications
Salesforce certifications can be obtained without Salesforce experience. Depending on the individual, completing this step may take only a month. These tests can also be taken online.
Your resume will stand out if you have Salesforce certifications.
You can start with the Admin certification and then the Developer certification.
Triple your salary with certifications
8. Get Salesforce Platform Developer 2 Certification
A Salesforce Platform Developer 2 certification is designed to verify the skills of the Salesforce professionals who have implemented advanced programmatic solutions on the Salesforce platform.
Salesforce PD2 and Salesforce CTA are the top of pyramid certifications.
PD2 actually encourages you to do coding projects, so you still get experience. There is plenty of help online in case you get stuck, and they are scoped to be done in a shorter timeframe.
PD2 can be obtained in a few months while having the equivalent months of volunteer experience will not look nearly as impressive.
No one with PD2 has ever been unemployed.
9. Get Salesforce Experience
For most roles, you'll need some form of practical experience, even if you have just a Salesforce Certification.
A job cannot be obtained without experience, and experience cannot be obtained without employment.
However, you want to go from a newbie to a Salesforce pro, so working creatively and creating solutions is the main focus! You can gain experience in many ways without taking a job.
10. Start Volunteering
You will also gain some valuable experience while helping a nonprofit. Start volunteering.
Getting a volunteer job could take you several months. The experience you gain there is not guaranteed to get you a job at the next level.
90% of the time you might have to do admin work. Your resume may look decent, but not as decent as PD2.
11. Opt for an entry-level job
Most companies are willing to hire someone with less experience provided their salesforce experience is good. Having a certification can be supplemental.
There are many admin positions available that may be suitable for entry-level jobs; however, if you have the experience to become a developer, you might want to try to pursue a developer position.
12. Transfer Your Job Roles in Your Company
There are certain employees who move from non-Salesforce roles to Salesforce roles within the same organization. The use of this approach ensures a seamless transition.
This process comes with the disadvantage that you have to be at the right time and place, with the right skills.
Unless your company already uses Salesforce, or if their administrative team already exists, this path may not be appropriate for you.
13. Start with a Consulting Firm
The best way to start is with a firm that specializes in Salesforce.
Salesforce consulting firms are generally willing to hire smart people without prior Salesforce experience if they have the right skill set.
As soon as you join, you will be trained by them.
14. Involve in Real-World Projects
Even if you are still learning, you can still complete a real-world project.
It is a great way to simulate a real-life client project to put together some specifications and build a Salesforce Developer Org to meet the specs.
15. Create a Business using Salesforce
It is easy to tell the difference between those who are seriously committed and those who are simply doing it for the sake of it.
You can build any business with Salesforce. You don't have to spend money on it.
To build a Salesforce organization from scratch, just think like a CEO and use your own creativity.
Do you have old stuff lying around the house? Make a free Salesforce org to keep track of your sales efforts. The opportunity allows you to keep track of product status, sale date, and price.
You can also track your job applications with Salesforce. Create an account for each company and an opportunity for each application. You can do whatever you like!
16. Build your own app
To gain experience, you should generally do this. Most people should consider it.
However, most people cannot find an app that is interesting enough to hold their attention while also being easy to complete in a reasonable amount of time.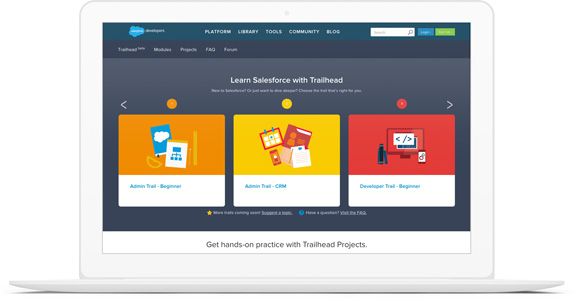 It may have marginal gains on your resume if you finish it since most recruiters simply won't bother to try it out.
You can create your own Salesforce apps by following this guide.
17. Start Knowing People
Meetups, user groups, and other local events are highly recommended.
Don't be afraid to jump in!
18. Salesforce Trailblazer Community
The Salesforce community forums serve as an information hub for users who need some assistance. Whatever your career needs, someone is always willing to assist.
19. Trailblazer Community Groups
Perhaps joining a community group will bring you closer to your community? There are Salesforce groups around the world run by volunteers who want to network with others and share knowledge.
20. Salesforce Developer Groups
Everyone can have access to a free developer org, which includes two user licenses and full functionality. You can then test and dump everything you've built.
Meetings are held in Developer groups worldwide on a weekly, fortnightly, and monthly basis. You can collaborate and/or contribute by finding the nearest one.
21. Join Salesforce User groups
Salesforce has an exceptional community. Here, people are really helpful to each other!
Engaging in Salesforce user groups will multiply your success. Without being involved with the community, a Salesforce professional is almost unthinkable.
It's so obvious that I ask each applicant how much they're involved with the Salesforce community during interviews. If they don't attend user groups, it's a big red flag.
Additionally, Salesforce recruiters love to attend user groups.
There are hundreds of users groups around you – find two that interest you!
22. Be Active On Twitter
There's no better way to learn from more experienced individuals or those making their way to the top than Twitter. Start here with this great post
You can try monitoring the #askforce hashtag on Twitter if you can.
23. Join Topcoder Community
Get involved in the Topcoder community.
Topcoder is one of the popular communities for Salesforce projects. You can submit your solution in Topcoder when the project is posted.
Upon selection, your solution will be rewarded by an amount in dollars. There may be many projects you need to compete for before winning your first, however, you will learn during that time.
The goal isn't to win, but to learn.
It can be challenging for a fresher to come up with a solution, but you can access the submitted code of other contributors and learn from them.
24. Be Active in Online Forums
Utilize and learn from Stackexchange, IRC, Salesforce Community, and Developer forum
Answer questions daily on StackExchange, Salesforce community, and developer forums.
Learn from other's answers if you don't know the answer.
The speed and level of detail in the answers by contributors will amaze you. It's like receiving premium support service for free.
As well as providing help, this site provides answers. If you prefer, here is a list of IRC channels available.
25. Join Salesforce Subreddit
Salesforce subreddit community is supportive, vibrant, and fun no matter what your experience or background is.
This subreddit does not allow dumps. If you offer or ask for dumps, you will be banned.
Also, you will be banned for sending spam, dumps, and asking for purchases.
26. Join Salesforce Discord
As a member of one of these sites, you will discover that you are not alone. The Salesforce discord group has tens of thousands of learners out there, and they can all achieve success together.
27. Salesforce For Everyone
Salesforce for everyone is a private Facebook group with experienced people sharing their expertise about platforms and guiding individuals on to a better career path.
In order to join the group, you have to participate in the 5-Day Salesforce Challenge which is completely free of cost.
28. Get Mentor
Choose a mentor if learning is hard for you. Salesforce mentors can help you navigate the Salesforce world.
The Mentorship Central is a group in the trailhead that connects mentors and mentees to help achieve specific Salesforce goals.
You will be more successful in future positions if you select the perfect mentor.
29. Learn Coding
While Salesforce admin jobs are in short supply, however, Salesforce developer jobs are in high demand!
Anyone can learn the basics of coding with time and effort. It's easiest to start coding today.
In most cases, small businesses employ newcomers with minimal experience as developers or administrators.
30. Enhance your Job Application
Making your resume stand out and practicing your interviews.
As a matter of fact, it's likely to be even more powerful than just getting PD2 right now, but gaining experienced mentorship to facilitate this process is nearly impossible.
Even if you don't believe you have the necessary experience, apply to mid-level development positions. Companies are scrambling for developers these days due to the shortage.
31. Update Curriculum Vitae
Stack exchange, developer forums should be referenced once you are recognized within the community.
Please list the name of the public profiles, developer groups, or user groups you contribute to.
While interviewing, ensure that your resume includes a link to your org login.
This step is imperative as your resume cannot be complete without Salesforce experience
A few simple ways to improve your resume
Factors of Motivation
You can measure your progress either daily or weekly by earning points and badges from developer forums and stack exchanges and completing trailhead badges.
When you work harder, you will earn more respect and become more visible.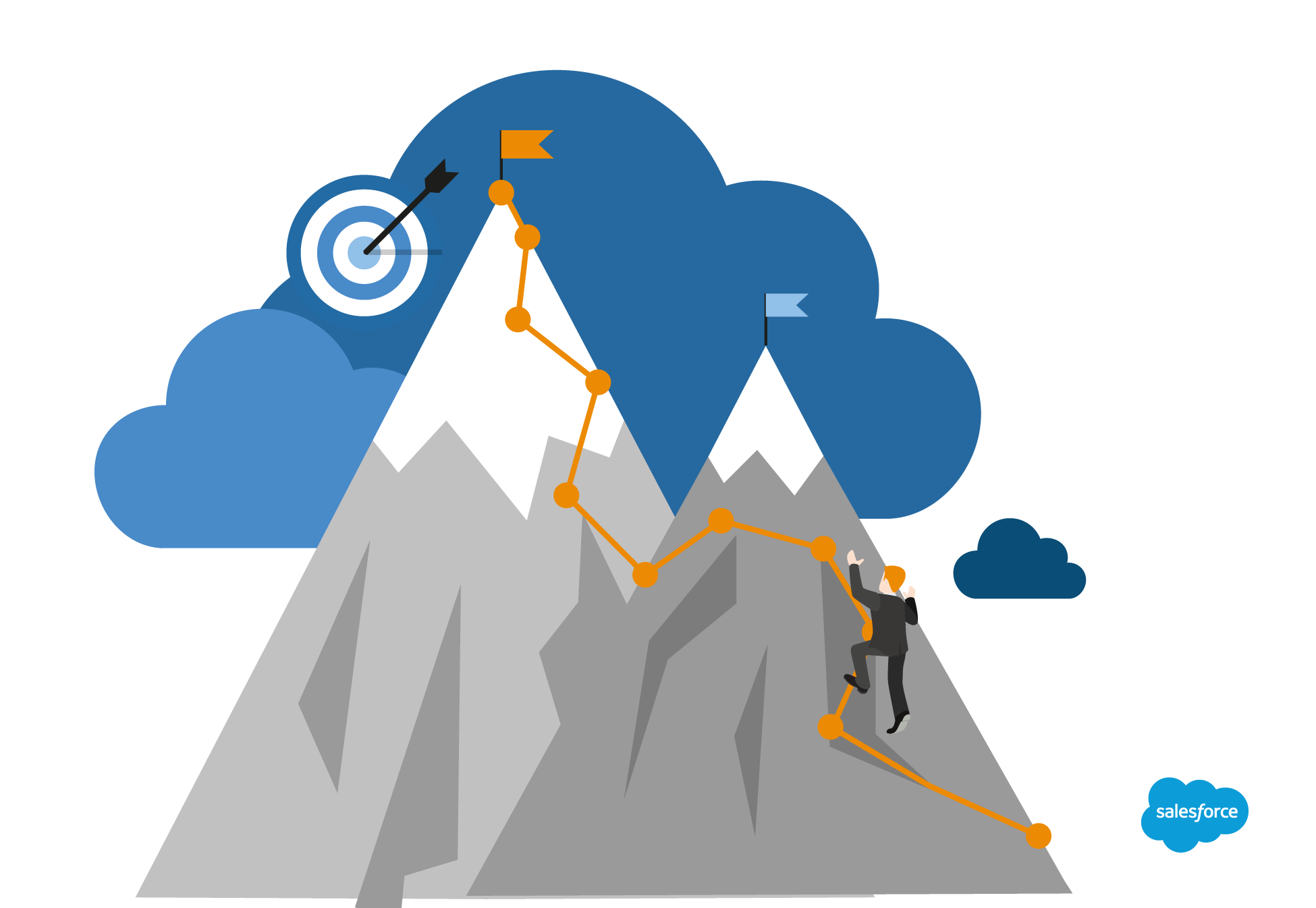 Estimated timeframe
Success cannot be rushed. There's no doubt this is not an easy shot, but you should certainly give it a go.
Without prior coding knowledge, it would take around 9-10 months to learn it. If you already have programming experience, it would take around 7-8 months.
How hard is it to get a job at salesforce?
Becoming proficient with the Salesforce platform can make it closer to get the job.
By leveraging your Salesforce expertise, you can better understand and provide solutions to the client and implementation partners.
With this, you can earn superbadges, certifications, and become an expert contributor.
What do to get a job at Salesforce.com without any experience?
To gain experience, you should work as a freelancer or for non-profit organizations, and then you will be able to get a good job with a good salary.
It is not difficult to begin a Salesforce career. Although getting a Salesforce job takes time, it is still possible.
Engaging in Salesforce will multiply your success. Without getting involved in the Salesforce community in some way, it's almost impossible to be a solid Salesforce professional.
Salesforce offers a wide variety of career opportunities in terms of job roles and responsibilities. Based on your interests and goals, pick the learning method that best suits your needs.